National Adoption Month: Small Steps Lead to Great Outcomes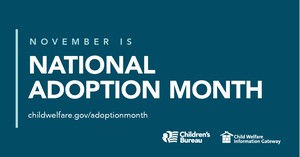 For 38 years, November has been recognized as National Adoption Month—a time to increase awareness of adoption issues, bring attention to the need for adoptive families for teens in the foster care system, and recognize the value of engaging youth. Pennsylvania Governor Tom Wolf also issued a proclamation recognizing November as Adoption Awareness Month in the Commonwealth.
This year's national theme, "Small Steps," emphasizes that every effort made on behalf of a child or youth can help open doors leading to permanency and success. As a network, you facilitate many of those small steps, and permanency often results from the accumulation of hundreds of steps and an unwavering belief in the SWAN mission of a family for every waiting child or youth.
At the June 2022 Pennsylvania Permanency Conference and SWAN/IL Summer Statewide Meeting, we cheered the 2,211 adoptions that were finalized in federal fiscal year (FFY) 2021 (10/1/20-9/30/21). Stories of adoption—supported by quality services, committed casework, and ongoing advocacy—were shared through the individuals and families honored at the conference award banquet and reported here:
National Adoption Month also serves to raise awareness of the need for families for children in substitute care. In Federal Fiscal Year 2021 (10/1/20-9/30/21), the number of children and youth served by the Pennsylvania child welfare system was 20,490. Of that total, 25% have a primary goal of adoption and are waiting for a permanent family.
As agencies and courts plan and host adoption month celebrations, keep in mind the following resources:
National Adoption Month Website

Adoption Month/Day event planning guidelines and resources from the SWAN Prime Contractor

Search on events at the SWAN Permanency Toolkit

Counseling for families interested in adoption through foster care. Adoptive families may self-refer for SWAN Post-permanency services by calling.

SWAN Helpline

1-800-585-7926 (SWAN)

Information about foster care and adoption in Pennsylvania, including profiles of waiting children
Thank you for all of your efforts to empower youth, see their strengths, honor their voices and ensure a permanent family for all.