Needle in a Haystack: Finding the Right Family
By Lynette Lemke, SWAN Technical Specialist, SWAN Helpline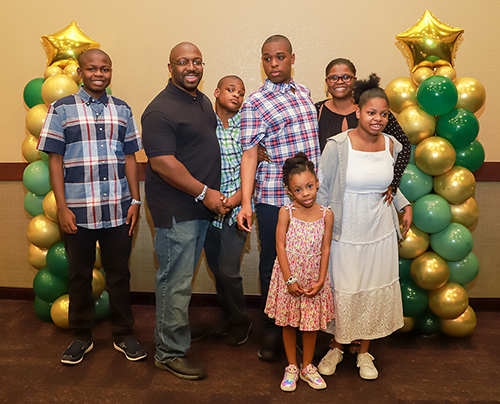 The Barnes-Axon family receiving the Permanent Family Recognition Award at the June 2022 Pennsylvania Permanency Conference.
Older Child Matching Initiative (OCMI) recruiter Mandy Somerville likes to refer to the Barnes/Axon family as the "needle." In her position, she is assigned youth who need permanency but are especially hard to match with families due to mental or physical health issues, length of time in foster care, the youth giving up hope, or a combination of challenges. Mandy related that finding the right family for a child can be like "finding a needle in a haystack." When it happens, it is special.
Keisha Barnes and Earl Axon were the "needle" for their sons, Anthony and Da'Ron. Their commitment led Mandy to nominate their family for the Permanent Family Recognition Award for which they were honored at the June 2022 Pennsylvania Permanency Conference.
Determination Overcomes Challenges
Mandy and fellow OCMI recruiter Russ McCurdy were working separately with brothers Anthony and Da'Ron. The county child welfare agency was certain their individual needs were so great that no one family would be able to take them both; therefore, separate families were being recruited. Both boys are non-verbal with an intellectual disability, and one has various medical issues. Although the boys lived in the same facility, they had little interaction with each other.
Meanwhile, as a newly approved family, Keisha and Earl regularly visited the AdoptPAKids website to review children waiting for permanency. During Summer 2020, they were sending out inquiries, and Keisha was drawn to Da'Ron and Anthony as she felt that they were innocent children who were in a situation they never asked for. Keisha felt that their family would be great fit for them because two of their biological children have special needs and it "sits dear to our hearts." They believed they could work with the boys due to the established structure they already had in place for their own four children.
Upon learning Anthony and Da'Ron were brothers, Keisha and Earl were determined to keep the boys together by adopting them both. Russ shared that he has never come across a family like the Barnes/Axon family with their willingness and determination to adopt two boys with severe brain trauma and to keep them together.
A Forever Family
The family was matched with the boys during the COVID-19 pandemic. Overcoming barriers as well as the agencies' lingering doubts, the family and the brothers were able to connect via Zoom and phone and through sharing photos. When they were finally able, the Barnes/Axon family drove five hours to Pittsburgh for weekly one-hour visits with the boys.
Anthony and Da'Ron were finally placed with the family in April of 2021. It took time to get the boys used to a new setting and environment, including a new school, and communication was initially difficult because they did not speak. However, the family bonded quickly. Da'Ron began to say names of family members, and his manners and self-help skills increased; Anthony began feeding himself. The boys were eating foods they had never eaten before, and one brother's repetitive spinning behavior stopped.
Finally, as the family sat in their van in a Wawa parking lot where they were assured a solid Internet connection, the adoption declaration was made in September 2021. At one time, an assisted group home was considered Anthony and Da'Ron's future. Now, they are part of a family they deserve, enjoying new experiences such as going to the beach and flying on an airplane. They recently celebrated one year since their adoption with a nice family dinner attended by relatives who live in other states.
Word of Advice and Praise
Keisha shared it's an honor to provide Anthony and Da'Ron with a loving, safe and nurturing home. She also shared some advice to other families considering adoption: "be dedicated, patient and open to change and understand it's life changing for everyone—the parents, the child being adopted and the current family members." Keisha praised the caseworkers for their hard work, going above and beyond, and always making time to answer assist or questions.
The "needle" is just one example of the belief in a family for EVERY child. We may just have to dig hard in the haystack to find them.