Professionals Honored with Teamwork Award Exemplify Perseverance, Support and Unity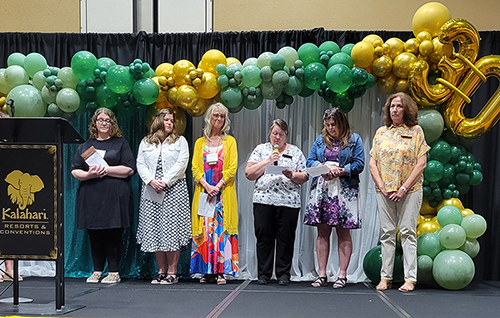 Recipients of the Permanency Teamwork Award, representing three agencies, deliver remarks in team fashion at the June 2022 SWAN permanency recognition banquet.
By Rachel Paashaus, PAE Coordinator
Standing on stage in a packed banquet hall at the 2022 Pennsylvania Permanency Conference's recognition banquet, six child welfare professionals received this year's Permanency Teamwork Award. The individuals honored were Tiffany Wettstein, Christine Walter, Megan Maier, Charlotte Kiker and Julia Sullender. These individuals represent a collective powerhouse, exemplifying a collaborative team who promoted permanency for a remarkable 20-year-old named Prince.
Teamwork is common in child welfare; much of what we do wouldn't be possible without collaboration across systems and agencies. However, this year's award recipients, led by Delaware County Children and Youth, stood out above the rest. With exceptional courage, persistence and determination, they facilitated an older youth adoption despite the challenges that can accompany this process. This team pressed on to successfully address legal barriers, recruitment challenges, and geographic nuances while concurrently making required adaptations due to a global pandemic. Prince's team remained steadfast throughout.
Delaware County's Megan Maier shared, "The entire team really wanted to see this adoption happen. Everyone worked together and had the same goal for Prince. It was really amazing and something I am proud of." On stage, the team's pride was apparent as they stood together to receive their award and, in true team fashion, they each took turns reading part of their acceptance speech, which they had written together. This delivery was a beautiful example of teamwork and celebrating success.
In describing this monumental night, Tiffany Wettstein, from the Institute of Human Resources and Services, shared, "It was hard for me to stand in front of all of those people and deliver a speech. It really helped having the rest of the team up there with me and knowing that everyone in the crowd was supportive." A supportive team makes all the difference.
For Charlotte Kiker and Julia Sullender, who worked for decades in the child welfare field, this award came post-retirement from Delaware County Children and Youth. Julia expressed, "I am so grateful that I was part of the child welfare system for 25 years. Prince's adoption was a defining moment and a true team effort as the SWAN network encourages." Charlotte has placed the glass award in her living room where all visitors who come to her home can see it, giving her the opportunity to continue talking about the importance of older youth adoption.
In reflecting upon what the award meant and how it continues to encourage her in her daily work, Bethanna's Christine Walter said, "It was a great reminder to me that I am good at what I do, and I should continue to push through the hard days when I feel like I am no longer making a difference. I am glad I love what I do!" Speaking of love, Prince's family celebrated the team's success as well and shared the following update: "2021 was a momentous year. Shannon and Celina adopted Prince [a few months shy of her 21st birthday]. We are immensely grateful to all those who helped to support Prince and facilitate the adoption."
This team's perseverance reminds us to push through the hard days when we feel like we are no longer making a difference and to remember, in the words of Gary Haugen, President of International Justice Mission, "Justice is a marathon, not a sprint."
The team dedicated this award to the late Rashida O'Gunde who passed away prior to the awards banquet. Rashida was an integral part of the permanency community and will forever be missed. May her legacy live on through all of us.
Rachel Paashaus is employed as a SWAN PA Adoption Exchange Coordinator in the Southeast region. Rachel is a Licensed Social Worker and devotes her career to fostering environments of healing for children, families, systems and communities.