Youth Advocate Award Winner Raises the Bar
By Rebecca Nallon, Program Technical Assistant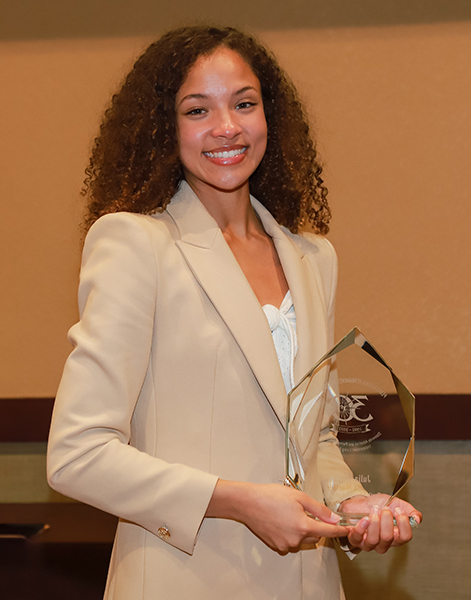 Julia Mueller holding the award for Youth Advocate Recognition, an honor she received at the 2022 Pennsylvania Permanency Conference.
Julia Mueller is a "wonder woman in the making," according to her nominee, Shayla Jones. The recipient of the 2022 Youth Advocate Recognition award, Julia is a glowing example of a young woman turning lemons into lemonade. As an alumnus of the foster care system, Julia's firsthand experiences in care, combined with her persistent and focused temperament, have given her an influential voice on the Pennsylvania Youth Advisory Board.
Julia was honored at the 30th anniversary Pennsylvania Permanency Conference Recognition Banquet, hosted by the Pennsylvania Statewide Adoption and Permanency Network and Independent Living Services. The award honors current or former foster youth who have raised awareness about the challenges of foster care and have demonstrated leadership, innovation, and advocacy on behalf of themselves and their peers in the system. Julia was composed and strong in her award acceptance. Julia shared that receiving the award was "overwhelming in a good way," as she has felt that advocacy for herself and others has always been her natural calling.
Ms. Jones, of the Child Welfare Resource Center, was impressed by Julia's passion for protecting youth in care, which stemmed from Julia's life experiences. She entered foster care at birth and spent the first five years of her life experiencing the confusion, high hopes, and deep disappointments of reunification efforts that ultimately ended in Julia's placement apart from her birth mother. The home in which she was raised for the next 11 years did not provide the security and care she so needed, and Julia developed a growing inner turmoil related to the physical and mental impact of her home environment and experiences with residential facilities.
Julia witnessed injustice for herself and her seven foster siblings. She found she could garner courage to speak up when others didn't have the courage to defend themselves against wrongdoing. Using the support she received through inpatient treatment, at age 16, Julia took action to alter her circumstances and through doing so, helped develop the strong voice she uses today. Fortunately, she has also had a positive placement with the family she has been raised by for the past six years.
Julia's experiences fueled her motivation to make changes for youth like her. She is proud to have advocated her way through challenges faced and honors the journey she has traveled. She used her platform on the Youth Advisory Board to elevate her voice to the state level, where she participated in a focus group for the Office of Children, Youth and Families within the Pennsylvania Department of Human Services. Julia met with Deputy Secretary Jon Rubin regarding the Family First Prevention Act and provided insight into how to make positive changes that prevent families from being separated. She also met with Human Services Analyst Supervisor Teresa Musser regarding her experience with residential facilities, which contributed to the suggested revisions on the Chapter 3800 state regulations for Child Residential and Day Treatment Facilities. Julia's drive and focus are such that, even when out of state and at a three-hour time difference, she actively participated in ongoing discussions.
Ms. Jones describes Julia as special because she did not remain a victim of her circumstances. Her troubled past drives her current and future ambitions to better the lives of young people like herself. Julia is currently a college student studying media, culture and law, with plans to pursue a law degree in the future. Julia aspires to start a non-profit organization to help youth in foster care thrive by allowing them to find their passions and exit care as successful, mentally whole adults. Julia proclaims, "I am an agent of change. I'm bringing peace back into my life through forgiveness. I will continue to advocate for other kids. I'm excited to see where I'll end up in the future."
Rebecca Nallon is a SWAN program technical assistant based in northeastern Pennsylvania. Prior to joining the SWAN prime contractor, Rebecca supervised and provided direct foster care and domestic adoption services, including work with the Interstate Compact for the Placement of Children, out-of-state contracting, legal risk placements, and a continuum of permanency services from pre-placement through adoption finalization and post-adoption services. She also has experience coordinating and providing community mental health services to children and youth.