SWAN Winter Statewide Meeting Featured Tools, Connection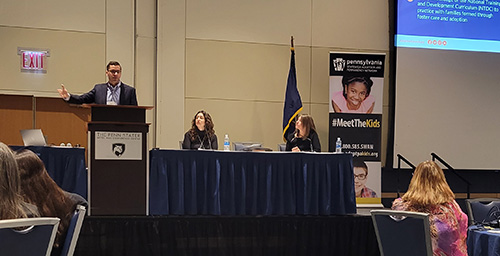 Keynoters Ryan Hanlon, Nicole Davi and Stephanie Wolfe present the National Training and Development Curriculum at the 2023 SWAN Winter Statewide Meeting.
More than 400 members of the network gathered at the Penn Stater Conference Center on January 25th and 26th for valuable training, in-person networking, and a centralized matching event. The SWAN Winter Statewide Meeting returned to in-person for the first time since 2019 after being held virtually for two years during the COVID-19 pandemic.
Day one featured a keynote presentation on the National Training and Development Curriculum (NTDC) provided by Nicole Davi and Ryan Hanlon of the National Council for Adoption and Stephanie Wolfe representing Spaulding for Children. Presenters explained the key features of the NTDC, how the curriculum can be used to train adoptive parents, and the options for accessibility and modification to meet the various needs of children, youth and families.
Representatives from the Department of Human Services, Office of Children, Youth and Families and the SWAN prime contractor provided administrative updates, accessible here. Dr. Brian Allen, Penn State University, discussed the Pennsylvania Adoptees Longitudinal Study (PALS), including who can participate and what participants are asked to do. The network's assistance is requested to identify children eligible to participate. More information about PALS can be found on the study's website.
Over the next two days, attendees participated in twelve workshops designed to enhance practice and services to children and families. Topics offered included Advocating for LGBTQ Youth, Assessment Tools for Secondary Trauma, SWAN Family Matching, and more.
Despite the inclement weather, several families attended the Family Matching Reception held Tuesday evening and praised the event for its organization and the number of agencies present. One family specifically commented, "I got to search for kids who weren't on the AdoptPAKids website yet." The event also created a valuable networking opportunity for more nearly 60 agencies, including our statewide partners who participated. Affiliates shared their appreciation for families who expressed genuine interest in the agencies' children and youth.
The network will gather next at the regional Spring Quarterly Meetings, to be held on various dates during April across the Commonwealth, and the Summer Statewide Meeting taking place on June 20-21, 2023 at the Kalahari Resort. See you there!