Speaking through Advocacy and Impact: Recognizing Michelle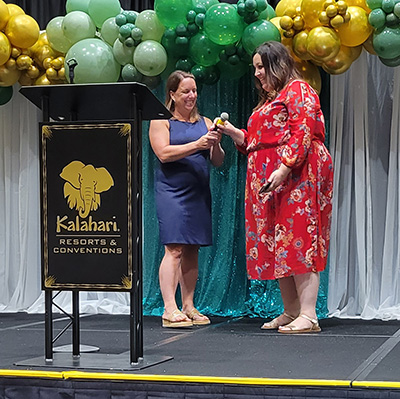 Meg Snead, Department of Human Services, presents the Permanency Professional Award to Michelle Matthews, Bethany Christian Services, at the June 2022 PA Permanency Conference.
By Hannah Carroll, Communications Specialist
Michelle Matthews doesn't really like to talk about herself; however, her work and impact as the social work supervisor in foster care for Bethany Christian Services of Western PA tells her story for her. Michelle is a champion for both resource families and first families. She actively encourages and promotes the benefits of children maintaining relationships with their biological families. Her advocacy and practice have led to first families attending adoption days, foster families becoming a permanent supports AFTER reunification, and normalizing post-adoption relationships between all parties to the adoption.
"We start with the very first foster parent informational meetings," Michelle explains. "We want to make it clear that as foster families, part of their job is to honor the relationships children have with their first families. Their families are likely going through the worst things in their lives, and foster families should be walking beside the biological families to help them maintain those connections."
She advises foster families to be thoughtful when communicating with first families and ask questions that demonstrate respect for their role as parents and help build trust between families (e.g., "What's your baby's bedtime routine?"). She also says that sharing success stories goes a long way in showing foster families what can be possible: "I've had families share that they feel like they gained a whole new extended family through nurturing their child's relationships. I had one foster family who rallied around their kid's mom when she went through a fire. They tapped into their network to support her and help her get what she needed to get back on her feet. Those are the things that build incredible bonds between families."
Michelle advises both her foster families and coworkers to always look outside of themselves and try to see scenarios from different points of view, asking, "How do you know you wouldn't end up in the same boat as first parents if you went through what they went through?" She adds, "We're here to keep the kids safe, but part of that safety is maintaining connections and having grace for their families."
In addition to her work to support first and foster families' relationships, Michelle made it her mission to develop and grow a Kinship Foster Care Program in Butler County. She recognized the need to better support kinship families through their foster care certification process, so she tailored the program to specifically cater to kinship families' unique needs.
"Kinship is SO different," Michelle says. "You're helping a family navigate a difficult situation and relationships on top of navigating the 60-day certification; it's a big ask!" She explains that they designed the program to be flexible with individual training sessions coordinated around the family's schedule. "With traditional foster families, they typically decide to foster when they feel they're ready, and they have time to set aside to train, plan and prepare. With kinships, most of the time they fall into it when a crisis happens in their own family, so it's our job to meet them where they are as best we can."
Michelle was honored as the 2022 recipient of the Permanency Professional Recognition award, and as we near the end of National Social Work month, it is easy to see how her work and accomplishments stand as an excellent example of service to Pennsylvania children and families. Michelle's coworkers at Bethany applaud her accomplishments, her support as a supervisor and peer and her "boots on the ground" mentality to always help children find permanency. Families consistently commend the support she lends to them with one writing, "Michelle Matthews has been absolutely wonderful. She is so patient, thoughtful, helpful and understanding." Another family summed up Michelle's impact succinctly saying, "Michelle has made all the difference in the world." No doubt, she will continue to do just that.