SWAN Program Administrator Judi Damiano Retires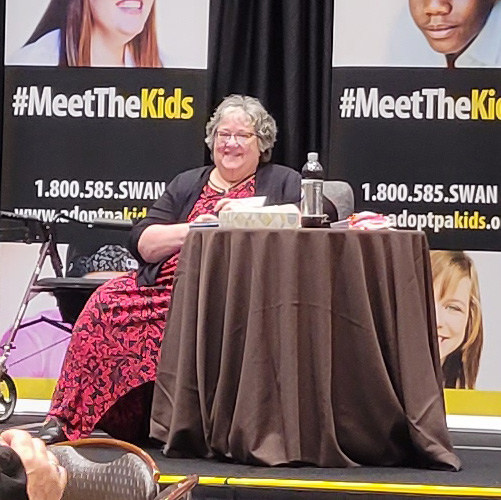 SWAN Program Administrator Judi Damiano delivered the keynote address at the 2022 Summer Statewide Meeting.
SWAN Program Administrator Judi Damiano has retired after five years overseeing SWAN programs and services and more than twenty years with the SWAN prime contractor. Judi stepped down from her role and stepped into a well-deserved retirement effective February 10, 2023.
Judi's expertise and influence can be felt throughout the network. Prior to joining Voce's (formerly known as Family Design Resources, Inc.) technical assistance team in 2000, she was a permanency specialist with SWAN affiliate The Children's Institute of Pittsburgh (formerly known as Project Star). Through the years, Judi helped to guide the growth of the network and the expansion of SWAN services, and, among her many accomplishments, she is widely credited for helping to design the Child Preparation unit of service. Having built trusted relationships at all levels, Judi was a welcoming face at network events, and the SWAN prime contractor is extremely grateful for the insightful and reflective keynote she delivered at last June's SWAN Summer Statewide Meeting.
Judi embodies the SWAN mission in all aspects of her professional and personal life. As an adoptive parent and a permanency advocate, she has assured many children and youth in Pennsylvania's child welfare system a voice and a family. Her dedication to the network was often reciprocated by her family members who were "regulars" at SWAN events, sharing their time and commitment as modeled by Judi.
For a brief look back at Judi's service over the last twenty years, a video collage can be viewed here. Congratulations to Judi on an incredible career!
The SWAN prime contractor has begun the process of evaluating the SWAN program administrator role in support of the network and will seek to fill the position in the weeks ahead. Voce's Executive Director Dr. Rick Azzaro will serve as interim SWAN Program Administrator until a successor is identified.