Equine-Assisted Therapy Helps Children in Foster Care Overcome Trauma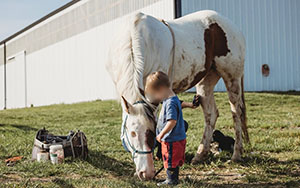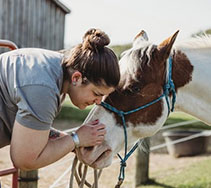 In Memoriam - Marsh (3/10/03 - 5/15/23)
Marcy Tocker's son with Marsh, a blind horse used in Grey Muzzle Manor's equine-assisted therapy program.
By Erin Reilly, Regional Technical Assistant
One of the side benefits of sharing SWAN with the community each year at the Pennsylvania Farm Show is reconnecting with old friends in the network. This past January, foster mom and licensed clinical therapist Marcy Tocker stopped by to chat. Marcy is the founder of Grey Muzzle Manor, a senior animal rescue and hospice center offering animal-assisted therapy and a special place created by Marcy where everyone would feel they matter, belong, and are noticed. Grey Muzzle Manor sits on forty-five acres in Berks County and has worked with children (and adults) experiencing trauma, depression, anxiety, impulse control disorders, autism, addiction struggles, and more.
Marcy described animal-assisted therapy as a space for clients to learn how to meet their innate need for safety, something that many children don't regularly experience in the foster care system. Although animal-assisted therapy can be performed with a variety of animals, Grey Muzzle Manor most often uses horses in this program. Marcy noted that every behavior a horse does is to meet their own safety, and that is what the therapy program aims to teach.
"The animals are in a fight, flight, or freeze state, as are many children who have experienced trauma," Marcy explained. She further noted that as humans, we can't do anything until we allow ourselves to feel safety. It takes time for both the children and the animals to warm up to each other and establish mutual trust. Part of the program is to eventually guide a horse through an obstacle course with no lead. "Getting a 14,000-pound animal to follow you through an obstacle course with no lead is super powerful," Marcy noted. "The children have to figure out how to make a connection and must be in a certain space for that to happen. This is monumental for kids who have lost autonomy and control." One of the most valuable aspects of animal-assisted therapy is that children can work on regulating their emotions in a controlled environment.
Grey Muzzle Manor is home to a horse with only one working eye. This particular horse has to be able to establish trust since his 360-degree vision is halved. Marcy shared the horse has established a strong, trusting relationship with one of her clients and actually keeps the child on his blindside. "Whenever she moves, the horse moves," Marcy remarked. "He knows he's safe, even when he can't see."
Interactions between a child and the horse enable the child to begin to develop awareness and coping mechanisms to take control of their lives. The horses enable the children to not only find this strength, but also to harness it and move forward. "Horses don't have ulterior motives; they don't judge. There is no need to figure out what they mean," Marcy explained. "They don't treat us differently if we are different. Horses are accepting and non-threatening."
Grey Muzzle Manor affords children open-ended therapy sessions that focus on movement and connection at an organic pace. Marcy noted that many children make significant progress in their treatment once they move from an office or traditional therapeutic setting to an outdoor setting. Incorporating movement fosters creativity and can really change the therapeutic course for children or adolescents who feel "stuck." There is no set number of sessions an individual must attend; rather the focus is always on making the most out of the sessions the individual is able to attend.
Marcy is fueled by her passion to reach children and youth who have spent time in the foster care system to make certain these children have opportunities to heal. "Their brains respond differently, and we have to help them work through the behaviors," Marcy noted regarding adequately addressing trauma. Grey Muzzle Manor works with community partners as well as county child welfare agencies, and offers a sliding scale for payment to increase access to services.
The programs at Grey Muzzle Manor are a unique intersection of Marcy's work as a private therapist in Montgomery County and her role as a foster parent. Over the past several years, Marcy has provided foster care to numerous children of all ages with a variety of needs. "I've wanted to be a foster parent ever since I was young," she recalled. In catching up at the Farm Show, it was exciting to learn she is currently providing permanency for a young boy and will be moving towards adoption in the near future. No doubt the animals of Grey Muzzle Manor will be a great support for her growing family.
To learn more about Grey Muzzle Manor, visit their website.