Meet the Marshalls: Playing for Keeps
By Lindsey Snow, Regional Technical Assistant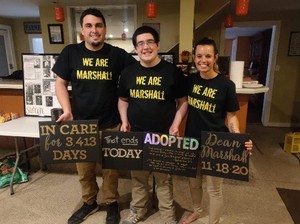 When it comes to caring for older youth, Dana and Bill Marshall "play for keeps." Whether permanency comes in the form of formal adoption or custody through a more informal arrangement, the Marshalls consider every youth who has entered their home to be family. Older Child Matching Initiative (OCMI) Recruiter, Marian Kolcum, witnessed their love and dedication first-hand through the family's adoption experience with their son, Dean. Marian nominated the family who received a Permanency Family Award at the 2021 Pennsylvania Permanency Conference.
Dana and Bill describe their introduction to the child welfare system as "an accident." While working as a youth pastor, Bill met a young man who was soon to be homeless. The Marshalls responded by becoming a resource family through The Bair Foundation and supported him until he joined the Navy. Dana and Bill later provided a home for his brother, and eventually adopted him as well. From that point on, the Marshalls continued to provide support to older youth in need – both officially and unofficially.
While some of the children who joined the Marshall family did so as a result of the Marshalls being able to meet the youth's emergent needs, Dean's addition to the family was planned and deliberate. Dana and Bill saw 15-year-old Dean's information on the AdoptPAKids website and reached out to his OCMI recruiter directly. They seemed to be a good match, but all involved were adamant that Dean's next home needed to be his last. Because of this, the matching process was slow and purposeful. In fact, ten months passed before Bill and Dana met Dean for the first time, and three months after that, he moved into their home.
Although Dean clicked with the Marshalls right away, they did face significant challenges when adjusting to life as a family. Fortunately, Dana, Bill, and Dean maintained their strong commitment to each other and to the finalization of Dean's adoption, believing that giving up was never an option. This commitment, coupled with the family's faith and the extensive team of professionals who supported the Marshall family – including Dean's OCMI recruiter, his county caseworker, and caseworkers from the Bair Foundation – resulted in Dean becoming a permanent member of the Marshall family through a finalized adoption. Dean is now 18 years old, has graduated high school and is working at a local coffee shop.
As demonstrated with Dean, providing love and care for their children has always been the Marshalls' goal. They trust that their faith has equipped them to care for the youth who live in their home, no matter how difficult it may seem. In addition, Dana and Bill credit their unwavering dedication to a solid support system and the right mindset. They have also increased their knowledge of parenting through experience and education, and this has helped them to manage and adjust their expectations. For example, Dana and Bill have learned that their children's trauma experiences can make reciprocating love more challenging. Likewise, they have also learned how amazing it can be when their children are able to feel and share their love. When times become tough, the Marshalls recall why they started the journey.
Beyond their own family, the Marshalls are dedicated to helping find permanency solutions for older youth in care. They are saddened by the devastating statistics for youth who age out of the system without permanency and are focusing their efforts on visiting other church communities to help recruit resource families.
The Marshalls hope that their story inspires others to look within themselves to determine how they can support older youth in the child welfare system. While they want families to know that the adoption journey is not always easy, it is most important to be fully committed to the children. There will be no "right time" to start the process – "the time is now." For those looking for a sign to start their own adoption journey, the Marshalls hope that hearing their story is enough to make the first call.
Lindsey Snow is a SWAN regional technical assistant based in western Pennsylvania. Prior to joining the SWAN prime contractor, Lindsey worked within the network as a permanency service coordinator for over ten years. Lindsey is always amazed by SWAN families and is honored to help share their stories.