Giving Back, Former Recipient Style
By Penny Stiles, Technical Assistance Division Manager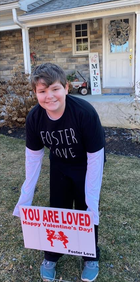 When you hear that someone has been involved with fundraising for a foster care agency for the past six years, you may think they are a former foster youth who is now in a position to give back to those who helped them in the past. Well, Cayden Roth, who was honored with SWAN's 2021 Youth Advocate award, is a former foster youth, but this young man has not even reached high school yet! Cayden is 12 years old, and he has worked with his family and community to organize several different fundraising campaigns to give back and support kids in care.
Let me take you back to where Cayden's journey to find permanency began…
Cayden was placed with his parents, Stephen and Lori, when he was 13 months old. Lori explained that they only had a 30-minute notice to pick up Cayden. They received a donated "starter pack" containing the essentials Cayden needed, along with some toys. The next December, to celebrate the day they welcomed Cayden into their home, the Roths began to pay it forward by recreating the gift basket they received for Cayden. In time, Cayden joined his family's celebration, picking out items for the gift basket himself. This family tradition has continued each year for the past ten years, with Cayden wanting to do something special to mark the tenth anniversary of his adoption, which occurred this year.
So what did Cayden decide to do?
Cayden was inspired to create a fundraiser that would work during a pandemic, and his family decided to do a yard sign campaign. They found a website that allowed them to design their own signs and order them in bulk. They chose the theme "Foster Love" to coincide with Valentine's Day. His mom advertised their campaign through social media, and the 25 signs they ordered sold out in the first half hour! So, they ordered more signs to sell, and ultimately they raised over $2,500!
Now, this campaign wasn't Cayden's first foray into fundraising. At age eight, the Association of Fundraising Professionals (Eastern Pennsylvania Chapter) recognized Cayden with the Outstanding Youth in Philanthropy Award. Cayden had become aware of another opportunity to give back when renovations were planned for Diakon's Topton Campus. His mom suggested they sponsor a bench, some books, or a rocking chair, but Cayden wanted to raise the entire amount that was needed to renovate the playroom. So, brainstorming for the fundraising began. Lori recalled that the largest donations came from direct appeals to individuals and the last bit of money needed came from a personal contact Lori had years before. This doctor invited Cayden to lunch and then wrote the final check.
Cayden has since become involved with "The Kindness Project," a non-profit organization that provides support to foster families in the Lehigh Valley and surrounding areas. He has raised donations for The Kindness Project in partnership with his church, where he delivered a sermon about giving back. Cayden shared the sentiments of the sermon, saying, "People are looking for a way to help, they just don't know how."
Well, Cayden has figured out how to help, and he has figured out that instead of donating his own money, of which he only has so much, he can make a more meaningful impact by organizing campaigns, spreading the word and inviting others to help. Cayden reflected on the support his community has shown his efforts to help kids in care, saying "People are generous. When you give them a way, you show how generous they can be."
Well said, Cayden! Well said!