Network Comes Together at Fall Quarterly Meetings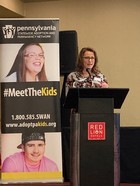 For the first time since the onset of COVID-19 in March 2020, the SWAN/IL Quarterly Meetings took place in-person throughout regions of the Commonwealth, infusing a spirit of connectedness for which the network is often characterized. As Carrie Keiser, Director, Division of Programs, Office of Children, Youth and Families declared in her opening remarks, "It is SO good to be back together!"
More than 850 attendees gathered at six regional locations and online for the hybrid session offered. While COVID-19 mitigation measures, including masking, table spacing and protective plexiglass at registration tables, altered the landscape, it was clear from the chatter and smiles, it was good to be back together, building relationships and sharing in the learning provided.
In addition to morning updates and the afternoon workshops, the general session, "When Families Come to the Table," discussed the practice and laws related to engaging families. Prime contractor technical assistance and legal training staff alternated training duties at each meeting site, but all spoke consistently to the theme of "we're all better and stronger together." Many insights came from table discussions on the benefits of relative placement, the influence of siblings in our lives, and the lasting impact of past relationships as it relates to resources for children.
Thank you to all the members of the network who were able to attend, and we look forward to seeing you in person or online at the Winter Statewide Meeting in January.