Highlights From the 24th Annual Permanency Conference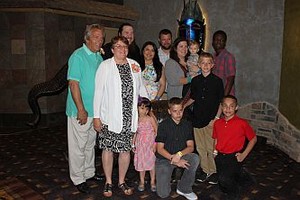 Nearly 700 people gathered at the Kalahari Resorts & Conventions in Pocono Manor, Pa. last month for the 24th Annual Pennsylvania Permanency Conference. The theme of the 2016 conference, sponsored by the Pennsylvania Department of Human Services/Office of Children, Youth and Families (OCYF), was Bravery • Courage • Triumph, qualities overwhelmingly shown by the families and children in attendance.
The 2016 SWAN/IL Summer Statewide Meeting kicked off the conference on Tuesday, June 14, with 354 child welfare professionals participating. Paul Foxman, Ph.D., founder and director of the Center for Anxiety Disorders in Burlington, Vermont, delivered the morning keynote. He shared the importance of diagnosing childhood anxiety and providing the proper treatment, as well as simple steps network members can do to improve their personal anxiety levels and support those who parent the children. It's important to "get enough rest" to best manage and respond to the multiple situations that present uncertainty, worry and mistrust.
The afternoon was filled with incredible workshops, and the day concluded with a very fun and successful matching reception featuring 66 agencies and 29 families. The network did a great job promoting the six youth who were there in person to share their hopes with the families who attended. The new SWAN display was an amazing and professional exhibit. The Helpline staff were pumped to meet some of the families, and the PSRFA was there in full force.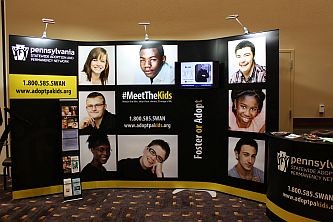 New SWAN Display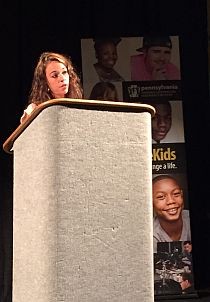 The three-day permanency conference ran from June 15 through 17. It opened with a stirring performance from the We Rock group of Allegheny County. This organization works with current and former foster youth, encouraging them to open up creatively through music as they learn to write, record, and perform original compositions.
The opening keynote speaker was Michelle Nauman-Brown, a youth advocate with Family Design Resources, Inc., who showed everyone how to use change and uncertainty to become a better person. She shared her many successes in spite of the numerous challenges she faced and her difficult path, spending more than 14 years in care and aging out at 18 years old. Michelle made sure the professionals recognized she is not a statistic, but someone who uses her story to encourage others; she charged the network to make a difference for youth, speak their language, and be patient. Watch her inspiring story here: http://www.familydesign.org/michelle/michellelanding.html
The recognition banquet gave us a glimpse of the many families who change the lives of our children and youth everyday through adopting, guardianship, and kinship. The teamwork, court advocacy, and professional awards reminded us that developing and building on relationships is critical to the success of the important work we all do. Cindi Horshaw, MSW, LSW, director of the Bureau of Policy, Programs and Operations within OCYF, was a fine MC. See the list of award winners below.
We closed out the conference with encouraging words from Jamole Callahan, Link22 Executive Director and a trainer with the Ohio Welfare Training Program. Mr. Callohan is a spokesperson for children and youth who cannot tell their stories. He used his experiences while in foster care, and stories of the kids he has met since, to enlighten the network and families on some of the hopes and needs of the youth in their care. Jamole made us laugh and shed some tears.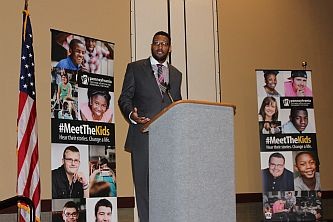 Jamole Callahan delivers his closing keynote, Helping Our Teens Become Dream Catchers
The refreshing new location added to the excitement and energy of the statewide meeting and conference, and the staff at the Kalahari provided great and friendly service. We are pleased to announce the annual permanency conference will return to the Kalahari in summer 2017!
24th Annual Permanency Conference Award Recipients
Permanent Family Recognition
William and Jacquelyn Bailey, Montgomery County
Alan and Sandra Doncez, Lehigh County
Analeisa Ecker, Allegheny County
Jeannette Liddick, Mifflin County
Jeffry and Jennifer Steele, Northampton County
Tom and René Williams, McKean County
Philanthropy Recognition
Brandon's Forever Home
Permanency Teamwork Recognition
Rhonda Jewert, Butler County Children and Youth Services
Brenda Dunmyre, Family Pathways
Ellen Rogan, Catholic Charities Counseling and Adoption Services—Erie
Stephen and Lisa Totleben
Permanency Advocate Recognition
Marleni Feinstein, Susquehanna Valley CASA—Voices for Children
Independent Living Professional Recognition
Paul Flinchbaugh, Youth Advocate Programs, Inc.
Permanency Professional Recognition
Currin Haines-Yoder, Dauphin County Social Services for Children and Youth
Youth Advocate Recognition
Constance Krebs-Iannetta, Montgomery County
SWAN Advisory Committee Outstanding Service to Adoption Award
Kevin Gray, Pennsylvania Department of Human Services