23rd Annual Pennsylvania Permanency Conference Keynote Speaker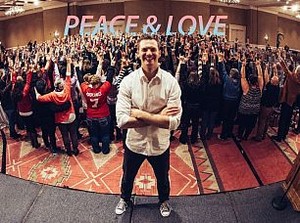 Travis Lloyd's inspirational story will be the closing keynote address at the Statewide Adoption and Permanency Network's 23rd Annual Pennsylvania Permanency Conference on Friday, June 26, 2015.
Having experienced and overcome foster homes, homeless shelters and a stay in an adolescent mental health unit enables Travis to offer hope, not only to audiences across the country, but to his own community. As a former hopeless youth who feared his lifestyle would lead to prison, Travis began seeking to discover how to live a life of passion and purpose. Today, he is a motivational speaker, author, trainer and consultant with a background as a health care professional and adjunct professor. He shares stories of overcoming and inspires others through real life stories, poetry and song.
Travis previously was a mental health mobile crisis worker and still occasionally serves as an adjunct professor and licensed emergency nurse in a pediatric hospital. He is a board member of Foster Care Alumni of America, vice-president of the Our Fields of Hope Foundation, a Google-certified contributor to the magazines, Social Work Helper and Foster Focus, co-author of Fostering Hope For America and author of Overcoming Emotional Trauma: Life Beyond Survival Mode.
SWAN's permanency conference will be held at the Lancaster Host Resort & Conference Center from June 24-26. You may register for the entire conference or for individual days here. Come to the conference and attend all its great events