"It was a Dark and Stormy Night"

While this might be one of the most cliché first lines in novels, it also describes the start of the 22nd Annual Pennsylvania Permanency Conference. The night before the conference a quick but powerful storm ripped through Lancaster County. In its wake power was lost to much of the Lancaster area, including the Lancaster Host, home of the permanency conference. Power was lost as well as water, flushing "essentials," electricity and air conditioning. It was a very long night.
A less hearty group may have packed it in and gone home. However, the attendees and SWAN/IL staff stayed! People remained in good spirits and weathered the conditions quite nicely. Eventually, when electricity returned people finally showered, the porta-potties brought in were removed and the conference center cooled down. Understanding that coming together was more important than everyday amenities, conference attendees, SWAN/IL staff and the hotel personnel never lost faith that the conference would happen.
The conference did happen. With the theme of "Finding Futures," the conference opening debuted the 2014 SWAN media campaign, "#Meet the Kids." This campaign features 12 Pennsylvania children who are waiting for their forever homes. Participants were captivated by a heart wrenching opening keynote from William Kellibrew IV. An internationally known motivational speaker, Mr. Kellibrew inspired the audience by sharing how, through hope, healing and recovery; he survived the trauma of witnessing his mother and brother fall victim to domestic violence. The audience left armed with tools to continue service to children facing trauma and were reminded of the miracles we see in working with children affected by trauma.
Over 700 people attended the conference, including 55 family members and 90 children and teens who joined the child care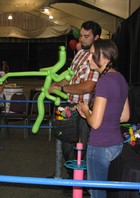 program. Participants were offered a variety of workshops and institutes focusing on topics such as training on working with incarcerated parents, trauma informed work with children in care, post permanency services for families and how child preparation works with young children. The annual awards banquet recognized families, adoption advocates, child and family workers and community philanthropists who commit their resources to our waiting children. The family picnic was a great success with delicious food, exciting entertainment and, of course, the marvelous balloon animals. We even witnessed some adults with balloons who said they were "for the kids."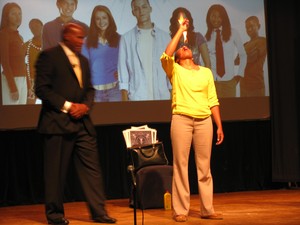 Finally, Eric Tyler Anderson, who delivered the closing keynote, astounded everyone with his magic tricks. How did he know all of that information about the foster care system? Eric grew up in foster care and aged out. His skills with cards and magic came from events leading up to his placement as well as his finding a way to succeed by looking at the formula for a "winning hand." He was truly amazing and everyone got to leave with a smile. As always the conference closed with a small program from the children and youth. This was a true delight and reminded us all of why we do the jobs we do. No storm can take that away!